Press Clips
Digital Kakejiku San Jose
Thomas Daniell
Over the second week of August, all of downtown San Jose -- self-proclaimed capital of California's Silicon Valley -- was transformed into an exhibition venue for electronic and new media art. This was the inaugural ZeroOne art festival, timed to coincide with the 13th annual symposium of the ISEA (Inter-Society for the Electronic Arts), an organization founded in the Netherlands in 1990 to foster "interdisciplinary academic discourse and exchange among culturally diverse organizations and individuals working with art, science, and emerging technologies."
Read more...
Spirit of ZeroOne Should Last All Year
ZeroOne San Jose + ISEA2006 press coverage
Mike Antonucci, San Jose meets the Sims, San Jose Mercury News, August 5, 2006
link
John Boudreau. Call it Birdblog or, maybe, Smogblog, August 7, 2006
link
L.A. Chung. Hooking Up with ZeroOne Takes Effort, San Jose Mercury News, August 9, 2006.
link
C|NET. ZeroOne's eye on electronic art, August 15, 2006
link
Geeta Dayal. Combatant robots create choreographed destruction, AP, August 21, 2006
link
Mark de la Viña.

Jori Finkel. At ZeroOne Paintings Are So Last Century. New York Times, August 6, 2006
link
Jack Fischer. San Jose Mercury News,

Koji Fujitani. Asahi Shimbum

Emily Gertz. Pigeons Write a Smog Blog. You May Be Next, Plenty, Aug/Sept 2006
link
Kate Hickey, ZeroOne San Jose and ISEA Symposium, NY Arts, September / October 2006
link
Jaweed Kaleem. San Jose Mercury News

Brad Kava. San Jose Mercury News

Marian Liu. Follow the Bouncing Squirrel. San Jose Mercury News, August 9, 2006.
link
Glenn Lovell. Lights, camera . . . interaction. Festival Presents Cinema 'On the Edge' that Demands More from the Audience Than Simply Eating Popcorn, San Jose Mercury News, August 8, 2006.
link
Lucaso.

Tikva Morowati. ISEA2006 Wrap-Up, Make, August 17, 2006
link
Stephanie Olsen. When art meets wireless sensors, CNET News.com, August 15, 2006
link
Mary Anne Ostrom. City's Soundtrack Put On the Map: Project Plots What San Jose Residents Listen To and Why, August 7, 2006
link
SalPizarro. Proud 'parents' turn out for 6-day event's first steps. San Jose Mercury News, August 9, 2006.
link
San Jose Mercury News.

Gary Singh. Art in Crazy Town. Metro, August 16, 2006
link
Gary Singh. Pointless Tech, Part Deux. Metro, August 9, 2006
link
Roger Thomasson. The Interactive City: Interactive exhibits go wireless in downtown San Jose. WIRED 14.08 (August 206).
link
Ashlee Vance, Back from the dead, Silicon Valley icons hitchhike across the US, The Register, August 4, 2006.
link
Sasha Vasilyuk, Art meets tech in unique way at ZeroOne fest in San Jose, InsideBayArea.com, August 10, 2006.
link
Richard von Busack. Doin' the Techno-Reel: One film critic's ramble through ZeroOne night on the town, Metro, August 16-22, 2006
link
Steve Winn. It's hard to tell where pixels end and reality begins, San Francisco Chronicle, Sept. 6, 2006
link
ISEA2006 + ZeroOne San Joser in the blogs
SJ Mercury pix + podcasts
All San Jose Mercury News slide shows and podcasts of ZeroOne San Jose here.
ZeroOne: The Final Days
Read more...
SF Chronicle: SAN JOSE/ Smog-monitoring pigeons? PETA says, 'No!'
Animal rights group protests plan to put gadgets on birds
Keay Davidson, Chronicle Science Write
Friday, August 4, 2006
http://sfgate.com/cgi-bin/article.cgi?f=/c/a/2006/08/04/BAG7IKB8TI1.DTL
"[PigeonBlog] was defended by Steve Dietz, director of ZeroOne San Jose, billed as "A Global Festival of Art on the Edge & the 13th International Symposium of Electronic Art," which runs Aug. 7-13. The image of birds equipped with radio transmitters is used as one of the festival's logos.
Mercury News: Artwork on the edge
By Mark de la Viña
Mercury News: http://www.mercurynews.com/mld/mercurynews/entertainment/special_packages/zeroone/15170170.htm
Silicon Valley will flip the switch on its newest start-up Monday -- a seven-day festival of art and technology.

More than 150 artists will use everything from Internet chat rooms to GPS technology in works of art displayed throughout downtown, most of which can be viewed for free as part of ``ZeroOne San Jose: A Global Festival of Art on the Edge.''

Simply put, ZeroOne intends to show how the marriage of technology and art is redefining what we call art.

In other words, don't expect ``Whistler's Mother.''
The Register: Back from the dead, Silicon Valley icons hitchhike across the US
Believe it when you GPS it
By Ashlee Vance in Mountain View
http://www.theregister.co.uk/2006/08/04/hitch_sv/
Into the Valley A new, rather high mark has been set for those hoping to secure lasting fame here in Silicon Valley. You have to die, be modeled out of wood, have a GPS device secured to your back and hitchhike your way around the country.
Finding the Art in Science and Vice Versa
Friday, August 04, 2006
And here in the 21st century, this coming week the history of art might take a turn in a new direction. It'll happen right in South Valley's own backyard. From Aug. 7-13, downtown San Jose will hold its inaugural "ZeroOne Festival," the very first digital arts event of its kind in North America.

Billed as "A Global Festival of Art on the Edge," the $2 million event will spotlight more than 150 digital media artists from New Zealand, Tokyo, Paris, Germany, Eastern Europe, and throughout the United States and the San Francisco Bay Area.
Link:
http://hollisterfreelance.com/lifestyles/contentview.asp?c=191468&siteID=33
Mercury News: ZeroOne San Jose
posted by Joann at 12:14 PM on July 30, 2006
This August (7 -13) nearly 150 Artists from 28 cities around the world and 25 cities in the U.S.A. will find their way to ZeroOne San Jose. The visiting artists will use technology as a tool to create some fantastic visuals including exhibits, live cinema, performances, music, dance, tours, and workshops.

The Opening Celebration, ZeroOne San Jose, on August 8 will be held at the San Jose Museum of Art in the Circle of Palms at 8pm.
http://sf.metblogs.com/archives/2006/07/countdown_to_zeroone.phtml
Metro - Silicon Valley's Newspaper
Art on the Edge
By Gary Singh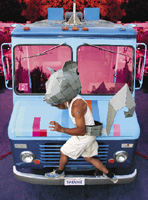 "You meet a squirrel—he wants you to do karaoke. A South African artist wants to turn your skateboard into a musical instrument. What is going on? It's the ZeroOne festival, and it's a full-scale art attack on San Jose."
Click here for full story.
Fast Forward Light Levels
http://rhizome.org/
July 28, 2006
Light From Tomorrow, a new work by British artists Thomson & Craighead that will be presented at ISEA 2006, comes to viewers courtesy of the future. A light sensor cradled in a waterproof container near the Tongan capital of Nuku'alofa sends data across the dateline. This information represents the light levels in Tonga, which are then interpreted by a specially-constructed light box in a gallery in San Jose. The data is sent in nearly real-time, and the luminosity of the light box reflects changes in light levels. The telematic reach of the internet permits gallery visitors in California to experience the intensity of light that is to exist tomorrow. This glowing rectangle of light, affixed to a gallery wall, offers an elegant representation of information, made poetic by the reversal of time. Better than any meteorologist, superior to a crystal ball, the Light From Tomorrow project permits viewers the magical experience of feeling that they are able to leap through ti! me, thanks to a digital intervention by two intrepid artists. Follow the daily progress of the project by reading the Thomson & Craighead's expedition diary online.
Michelle Kasprzak
SimVeillance on Turbulence.org
http://www.mercurynews.com/mld/mercurynews/news/columnists/sal_pizarro/14956858.htm By Sal Pizarro Mercury News
Downtown San Jose traditionally starts summer with the Fourth of July festival and ends it with Tapestry Arts in September, and the jazz festival bridges the gap in August. But things have grown busier the past couple of years. Last summer saw the debut of the San Jose Grand Prix, which drew more than 150,000 people downtown in July, and the Dew Action Sports Tour, a September spectacle outside HP Pavilion that drew thousands of fans of extreme sports and alternative music.

Both events are coming back this year. And there will be a new draw this summer: ZeroOne San Jose, a seven-day festival in August celebrating the intersection of art and technology. It could bring 50,000 people downtown for activities and exhibits that promoters say will blanket the area with electricity -- and those blogging homing pigeons, which will be outfitted with sensors and WiFi devices to measure air quality.
----------------------------------------------------------------------------

Sal Pizarro writes about Silicon Valley on Mondays, Wednesday and Fridays. Contact him at or (408) 627-0940 and read him online (www.mercextra.com/aei/spizarro).
ZeroOne - A Culture Boost for S.J.
Mercury News Editorial
http://www.mercurynews.com/mld/mercurynews/news/opinion/15004536.htm
The San Jose Grand Prix has been getting most of the publicity, including some it didn't want, as the blockbuster downtown event of the summer. But there'll be a new kid on city blocks next month that could make just as much noise, figuratively speaking, on behalf of the city's cultural profile.
ZeroOne San Jose: A Global Festival of Art on the Edge has the potential to brilliantly capture the emerging use of technology in art and make it a Silicon Valley trademark. It will involve digital art, GPS capability, floating wireless cameras, shipping container culture (aren't you anxious to find out what that is?) and lots of interactive displays.
Read more...
http://www.metroactive.com/metro/07.05.06/jennifer-steinkamp-0627.html
Jennifer Steinkamp's computer animations fill galleries of San Jose Museum of Art with fields of color
By Michael S. Gant
A VISIT to the rooms of living light that Southern California computer artist Jennifer Steinkamp creates can be deceiving and disorienting. A quick glance at a piece like Rapunzel, and one might mistake it for an especially crystalline flower print blown up to wall size—a page from a modern herbal maybe.
But look longer, and this delicate tangle of straw flowers turns into a flowing, twisting kinetic mass of whipping blossoms. The piece, projected from across the gallery, is a computerized animation running on a brief cycle that refreshes every few minutes, although the motion of the scores of intertwined stems produces such a complex dance that you can't really pinpoint the repetition.
http://www.metroactive.com/metro/07.05.06/jennifer-steinkamp-0627.html
Smart City is a weekly, hour long public radio talk show that takes an in depth look at urban life, the people, places, ideas and trends shaping cities. Host Carol Coletta talks with national and international public policy experts, elected officials, economists, business leaders, artists, developers, planners and others for a penetrating discussion of urban issues.
June 24: New Media Art
http://www.smartcityradio.com/smartcityradio/
Read more...
Lifescapes: ZeroOne San Jose
Lifscapes
Over 1,800 artists submitted proposals to an international ZeroOne jury of artists, theorists and art experts, resulting in an unprecedented opportunity to view and learn about the newest developments in the emergent fields of electronic arts, new media and mixed media performance.
Guiding the conceptualization of the festival and acting as ISEA2006 symposium director is Steve Dietz (former Curator of New Media at the Walker Art Center in Minneapolis), who has said, "Major digital media festivals take place regularly around the globe each year, drawing audiences of all ages and backgrounds and showing them the most innovative contemporary art. The United States by contrast holds few of these events. The ZeroOne San Jose festival will transform San Jose into the North American epicenter for the intersection of art and digital culture by showcasing the world's most ground-breaking contemporary artists."
Lifescapes
San Jose Rated Among Top Art Cities
San Jose is the 25th top art destination in the United States, according to AmericanStyle magazine.

It's the first time San Jose has made the magazine's Top 25 for big cities of 500,000 or more.

With the ZeroOne Art Festival debuting this year, the San Jose Jazz Festival, and a vibrant modern arts museum among other attractions, it seems the city has begun to turn the heads of the nation's art lovers.
http://sanjose.bizjournals.com/sanjose/stories/2006/06/12/daily54.html?jst=b_ln_hl
San Jose on the Bleeding Edge
By Janos Gereben
Just like that, San Jose is surging into the vanguard of cutting-edge contemporary music, with the conjuction of three major events this summer. The news is significant enough that San Jose Mayor Ron Gonzales is holding a press conference Wednesday, with the participation of a dozen artists and festival organizers. Meanwhile, in advance of official declarations, here are some basic facts:
http://www.sfcv.org/arts_revs/music_news_6_13_06.php
Art, Tech Event Sparks High Hopes
Strange Culture Work-in-Progress
There will be a preivew of the work-in-progress of Lynn Hershman's "Strange Culture," the story of Steve Kurtz, Professor of Art at the State University of Buffalo and a founding member of the internationally acclaimed Critical Art Ensemble.
Lynn's book, "The Art and Films of Lynn Hershman Leeson: Secret Agents, Private I," was recently reviewed in "Per Contra" magazine.
The Art and Films of Lynn Hershman Leeson: Secret Agents, Private I serve both as an absorbing introduction to the career of Lynn Hershman Leeson, and, also, through her work, to: aspects of the relationship of art and technology; site-specific installations; interactive art; and performance art. In the forward to this fascinating and informative collection of essays, Robin Held credits Hershman with being a "pioneer in 'new media' art" including producing "one of the first interactive artworks on videodisc, ...the first artwork to use a touch-screen interface; one of the earliest robotic art installations; and the Lynn Hershman Leeson (LHL) Process for Vitual Sets." Lynn Hershman is also known for her Roberta Breitmore project l974-1978, in which, as Held wrote, Hershman "explored spectacle, surveillance and spectatorship and their roles in constructing a sexed identity." This collection of essays includes two chapters by the artist, both of which are must-reads for those interested in the history of art during the last decades of the Twentieth Century and the start of the Twenty-First; the book will be especially interesting to someone interested in a feminist perspective of that time period.
By Sal Pizarro
Mercury News
Supporters of this summer's ZeroOne San Jose digital art festival gathered Sunday afternoon at Villa Lauriston, the stately Portola Valley home of Norio Sugano and Leah Middlebrook.
The reception, hosted by 1stAct Silicon Valley and the Asia America MultiTechnology Association, featured an eye-opening performance by San Francisco-based vocalist Pamela Z, who digitally loops her operatic voice to create layers of sound and then couples those with music she creates through gestures. She wears BodySynth sensors that pick up electrical impulses created by her muscle movements and turn those impulses into sound.
ZeroOne director Steve Dietz said the performance and a talk with artist Jim Campbell were glimpses into what the festival has to offer. ``There's no single thing we can define as `digital art,' '' he said. ``You may not like everything there, but I guarantee that there will be something you find amazing.''
For more details on the festival, which runs Aug. 7-13 throughout downtown San Jose, go to www.01sj.org.
http://www.mercurynews.com/mld/mercurynews/news/columnists/14759533.htm
Capturing humanity's conversations in the ether
By Jack Fischer
Mercury News
A problem with understanding how high tech is changing our lives is that key parts of the changes are hard to see. People come to Silicon Valley in search of what the valley has helped wrought, and there's nothing to show them. Where do you go to see the Internet?
A mesmerizing answer to that question just went on exhibit at the San Jose Museum of Art, which has unveiled "Listening Post" (2001) by Ben Rubin and Mark Hansen. The work is a first taste of what we can expect in August when "ZeroOne San Jose: A Global Festival of Art on the Edge" brings its mix of art and technology to downtown.
Read more...
Celebrating art "on the edge"
By Jack Fischer
Mercury News

From Aug. 7 through 13, San Jose will play host to the most ambitious effort ever to put the city on the art world map, "ZeroOne San Jose: A Global Festival of Art on the Edge."

The festival, which organizers envision as a biennial event, is intended to explore the state of art and technology. The use of technology to make art is still a niche in the larger art world, but it's a fast-growing one, and focusing on it is a logical place for the "Capital of Silicon Valley" to make its mark.

In its inaugural outing, the upstart festival should gain instant street cred with its concurrent hosting of the International Symposium on Electronic Art. ISEA (pronounced "Isaiah") is an established event that draws scholars and artists from around the world to a different city every two years to present academic papers on the topic.

Festival director Steve Dietz, the former curator of new media at Walker Art Center in Minneapolis, recently provided this primer on what San Jose can expect when the festival and its artists take over downtown this summer.

(More information about the festival is available at www.01sj.org.)
Read more...
Metro's Summer Guide 2006
AFTER ALL the rain this spring, we deserve the kind of red-hot summer all the global-warming Cassandras have been shouting about, even if it means the glaciers are going the way of dinosaurs. In fact, one of our summer picks is An Inconvenient Truth, a documentary about climate change and what it's going to do to ocean-front property values. It's narrated by Al Gore and opens June 2 (see our guide to Summer Movies).

http://www.metroactive.com/metro/05.17.06/summer-intro-0620.html
West Coast Art+Design News May 2006 - Vol 1, Issue 2
by Michael Cripps and Bill Bush, Lifescapes Magazine, Advertising Dept.
ART QUAKE: The ZeroOne San Jose Festival will transform the California city into the North American epicenter for the intersection of art and digital culture by showcasing the world's most innovative contemporary artists. ZeroOne San Jose is artists making art and using technology as a tool to do so. Lifescapes will preview some of these emerging artists: All are one-of-a-kind, many never-before, only-here experiences.
Pigeons to collect air pollution data
Geek.com posted 8:14am EST Fri Feb 03 2006
JOSHUA'S OPINION
"This is an interesting take on air pollution data collection. While I have to wonder how useful the information will be, I can see why the idea has stuck with da Costa. Not only does the project require the use of top-of-the-line technology, it combines that technology with animals. As you can see from all the following links to our previous coverage, that mixture is always a hit, even when the "animal" is all technology." <more>

Pigeons get backpacks for air pollution monitoring
Reuters
Published: February 1, 2006, 3:01 PM PST via
CNET
A flock of pigeons fitted with mobile phone backpacks is to be used to monitor air pollution, New Scientist magazine reported on Wednesday.
The 20 pigeons will be released into the skies over San Jose, Calif., in August.
Each bird will carry a GPS satellite tracking receiver, air pollution sensors and a basic mobile phone.
Text messages on air quality will be beamed back in real time to a special pigeon blog, a journal accessible on the Internet.
Miniature cameras slung around the pigeons' necks will also post aerial pictures.
The idea is the brainchild of researcher Beatriz da Costa, of the University of California at Irvine, and two of her students.
They have built a prototype of the pigeons' equipment, containing a mobile phone circuit board with SIM card and communication chips, a GPS receiver, and sensors capable of detecting carbon monoxide and nitrogen dioxide.
"We are combining an air pollution sensor with a homemade cell phone," da Costa told
New Scientist
.
The team is planning to squeeze all the components onto a single board small enough for the birds to carry in a backpack, New Scientist said.
The pigeons will take to the air at the inter-Society for Electronic Arts' annual symposium in San Jose on August 5.
The data they send back will be displayed on the blog in the form of an interactive map.
Story Copyright © 2006 Reuters Limited. All rights reserved.
Pigeons to set up smog blog
New Scientist
04 February 2006
Magazine issue 2537
Twenty of the birds will soon take to the skies above San Jose, California, each carrying a GPS receiver, pollution sensors and cellphone technology
Got your own blog yet? If not you'd better hurry up if you don't want to be beaten to it by a flock of pigeons. Later this year 20 of the birds will take to the skies above San Jose, California, each carrying a GPS receiver, air pollution sensors and a basic cellphone. They will measure levels of pollutants they encounter, and beam back their findings as text messages to a blog in real time.
"We are combining an air pollution sensor with a home-made cellphone," says interdisciplinary artist and researcher Beatriz da Costa of the University of California, Irvine, who came up with the idea of the pigeon blog with her students Cina Hazegh and Kevin Ponto. The team has built a prototype of the pigeons' kit containing a cellphone circuit board with SIM card and communication chips, a GPS receiver and carbon monoxide and nitrogen dioxide sensors. They ... [NewScientist.com]



By Jack Fischer
Exhibitions range from cutting-edge new media to Winslow Homer classics
Mercury News
Posted on Sun, Jan. 01, 2006
Full article online


Every year there are more reasons to get your art fix in the South Bay, even if periodic trips to San Francisco remain advisable. A glance at the mix for 2006:
ZeroOne San Jose: A Global Festival of Art on the Edge
Aug. 7-13
If all goes according to plan, San Francisco will be coming to San Jose for this international gathering of new media artists. The festival is being modeled on Ars Electronica, a well-regarded new media extravaganza in Linz, Austria, which has no counterpart in North America. Curated by new media art guru Steve Dietz, the festival and an attendant symposium for wonkdom is expected to spill out of the San Jose Museum of Art's galleries and throughout the downtown. This should be a good fit of art with Silicon Valley's natural nerdy inclinations.
Read more...
Electronic arts fest will light up S.J.
By Leigh Weimers
Mercury News
Posted on Mon, May. 16, 2005
It rated only a small headline when the news broke in December, but the more you look at the international symposium on electronic art coming to San Jose in 2006, the bigger it gets.

For one thing, this biennial gathering of the technology world's top artists, organized by the Netherlands-based Inter-Society for Electronic Arts (ISEA), meets only in cities with serious cultural and electronics chops -- Helsinki, Paris, Sydney, Montreal, Chicago, Manchester and Nagoya in past years. For another, San Jose's landing of this plum is planned as a catalyst for Silicon Valley's own biennial arts/technology festival that'll open here simultaneously and continue long after 2006 is history.
Read more...