Interactive City artworks
99 Red Balloons: A game about flying perspectives
Written by Steve Dietz
Dec 28, 2005 at 11:18 PM

99 Red Balloons: A game about flying perspectives Inspired by A Midsummer Nights Dream and the 80s pop song 99 Red (Luft)Balloons by the German singer Nena.
Location: Headquarters and lounge of The Tech Museum for Innovation;
Street game played at Cesar Chavez Plaza
Dates: ZeroOne San Jose: A Festival of Art on the Edge
ISEA2006, August 7 through 13, 2006
Play Sessions:
Monday, August 7, 2:00 to 3:00 pm Tuesday, August 8, 5:00 to 6:00 pm Wednesday, August 9, 1:00 to 2:00 pm and 5:00 to 6:00 pm Friday, August 11, 1:00 to 2:00 pm and 4:00 to 5:00 pm Saturday August 12, 1:00 to 2:00 pm, 2:00 to 3:00 pm, and 5:00 to 6:00 pm
Last Updated ( Aug 03, 2006 at 09:44 PM )
Read more...
Mar 13, 2006 at 10:14 PM
Exploring Relational Space
Cities are not merely collections of buildings; they are the living, breathing, teeming product of the human bodies who inhabit them. A city razed to the ground may recover, but a city emptied of people is dead. Yet emphasis is always given to the locative nature of a city - the neighborhood you live in, the street, the floor, the unit - an assertion of a Cartesian primacy which ignores the more profound natural relationships of the city: the coming together and parting of human beings living social lives. Cities are their people; souls are the bricks from which a city is constructed.
BlueStates: Exploring Relational Space is an attempt to reverse the figure and ground of the city, ignoring its visible nature as a locative, Cartesian space, creating, instead, a view of the city purely as a social space. In this work, the trope of absolute location is abandoned in favor of the idea of relational proximity. BlueStates does not show you where you have been, but rather, it shows you who you have been with - a more perfect metric for the inner life of the city.
Last Updated ( Apr 11, 2006 at 03:23 PM )
Read more...
Mar 13, 2006 at 09:45 PM
In an accessible public place sits a telephone resembling those used to make automatic calls to service centres. Instead of a keypad the phone has an LCD that informs the viewer that when he picks up the receiver he will be connected with a participant. Each time the handset is lifted, the phone randomly dials from its database the telephone number of one of the number of project participants who have agreed to receive calls from and have conversations with strangers at all hours of the day. These volunteer participants, from a wide variety of backgrounds and communities, will have been solicited through a variety of local media and means. The interactions are not recorded or otherwise determined in any way.
Last Updated ( Jun 07, 2006 at 01:47 PM )
Read more...
Written by Steve Dietz
Dec 28, 2005 at 11:38 PM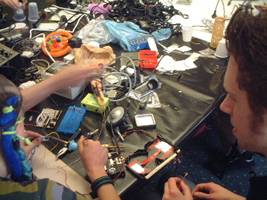 DIY Urban Challenge is a workshop in which participants "hack" the streets of San Jose, creating objects which interject themselves into the urban fabric, to stimulate new experiences of the city. During a two day workshop participants will traverse San Jose detailing points of intersection and friction, and will use recycled and cast-off materials as well as wireless technologies to develop objects which can be installed within the cityscape. Some of the questions we will ask with this workshop, will center on urban awareness and possible alternative "services" which could result in increased interactions between people in the city.
URLs
http://www.scrapyardchallenge.com
Sign up for DIY Urban Challenge Workshop at ISEA2006
Last Updated ( Apr 28, 2006 at 09:27 PM )
Written by Steve Dietz
Dec 28, 2005 at 11:51 PM

The Drift Relay is a collaborative psychogeographic experience in the form of a 24 hour relay-style exploration of San Jose. Participants ["Drifters"] will drift through new and familiar city spaces with a Glowlab coach and a mobile kit of recording tools, contributing to a collective journey of endurance and discovery. Project headquarters at ISEA will continually broadcast the remote group's location and status. Data and artifacts will be returned to the headquarters for processing and display throughout the duration of the Drift Relay. Taking the phrase "the city that never sleeps" to heart, together we'll locate the joys and difficulties of documenting ephemeral urban experience.
Last Updated ( Jul 31, 2006 at 02:30 PM )
Mar 15, 2006 at 09:05 AM
A collaboration between Luke Moloney, Marc Tuters and Adrian Sinclair, Fête Mobile is an experimental autonomous media platform that centers around a robotic blimp equipped with video-capture and wireless capabilities for remote sensing the landscape from above and interacting with the public below. Carried by a twenty foot blimp, Fête Mobile is an autonomously controlled vehicle that, nevertheless, offers its audience limited access to influence its trajectory as well as its optics through an online interface. As Fête Mobile flies through the streets it also creates a wireless bubble of social activity accessible to those within its immediate proximity. The audience are invited to connect to the blimp's on-board wireless micro-computer through their laptop computers in order to exchange files with the blimp's mobile archive. This allows Fête Mobile to function as a kind of autonomous "sneaker network", physically out of reach of the authorities.
Last Updated ( Aug 05, 2006 at 03:47 PM )
Read more...
Mar 13, 2006 at 10:04 PM
The eyes of the robot collect up snippets of video and transmit them to the body when the buses they are on come within range of an appropriate wifi node.
The body sits in an art gallery. On the wall is a projection of its stream-of-consciousness editing, and on a separate screen are finished films which it completes nightly. Video received from the eyes is split into individual frames, which are analysed and stored. The output of the robot is made from arrangements frames and false memories that the robot forms from its favourite images.

Last Updated ( Jul 07, 2006 at 11:28 AM )
Read more...
Free Network Visible Network
Mar 14, 2006 at 10:54 AM
with Liu Wei, Duy Nguyen and Adrian Cheok (IERC, Nanyang Technological University, Singapore)
Free Network Visible Network is an urban intervention project that uses the possibilities of the new technologies to create new landscapes in the public space by means of the visualization of the data that flow between digital networks. It changes our perception of the world with the "invisible meanings" that are around us.
Last Updated ( May 02, 2006 at 11:20 AM )
Read more...
Mar 13, 2006 at 11:33 PM
Artist comes to San-Jose with her assistant-scientist her assistant-graffer. They study the density and the quality of electromagnetic fields. They meet local graffers and they explain them the landstream project. Together the team realizes an in-city fresco with the real time field's capturing.

Last Updated ( Apr 11, 2006 at 03:09 PM )
Read more...
Mar 13, 2006 at 11:23 PM
LiveForm:Telekinetics creates experiences in transgeographic temporary performance zones, centred around wireless Internet access points that are now ubiquitous in the urban landscape. No longer tied to a terminal screen and keyboard, nomadic groups pack mobile feasts of sensors, antennas, robotics, food, and music, and head out on the town. Networked telepresence picnic parties unfold in vacant lots, roadsides, cafés, alleyways, bars, and hotel lobbies - wherever bandwidth is plentiful and security guards scarce. The events are not meant as entertainment for an audience, but as experimental and collaborative acts of creativity, research and development of new social forms, and interventions in public space.

Last Updated ( Jul 18, 2006 at 11:39 AM )
Read more...
Loca: Set To Discoverable
Written by Steve Dietz
Dec 28, 2005 at 10:32 PM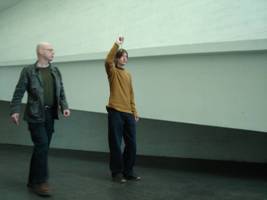 Loca: Set To Discoverable is an artist-led interdisciplinary project on mobile media and surveillance.
A person walking through the city centre hears a beep on their phone and glances at the screen. Instead of an SMS alert they see a message reading:
"We are currently experiencing difficulties monitoring your position: please wave you network device in the air."
Loca: Set To Discoverable sets out to expose the disconnect between people and the trail of digital identities they leave behind. Loca opens up a conversation with passers by, responding to urban semantics, the social meanings of particular places:
"You walked past a flower shop and spent 30 minutes in the park, are you in love?"
Last Updated ( Aug 07, 2006 at 09:58 PM )
Read more...
Written by Steve Dietz
Dec 28, 2005 at 11:45 PM
etoy
etoy.ZAI, etoy.GRAMAZIO, etoy.MONOROM, etoy.HAEFLIGER, etoy.MARCOS, etoy.KUBLI, etoy.NEWTRON, etoy.VINCENT, etoy.SILVAN, etoy.MIR, etoy.STAMBERGER, etoy.ROCK, etoy.ROCKET, etoy.THOMMY, etoy.ZAK, etoy.MAX
MISSION ETERNITY is an information technology driven cult of the dead.
etoy digitally sends TEST PILOTS across the ultimate boundary to investigate the afterlife, the most virtual of all worlds. The short-term plan (2006-2016) is to install an interactive city of the living and the dead that reconfigures the way information society deals with memory (conservation/loss), time (future/presence/past) and death.
Last Updated ( Aug 01, 2006 at 10:05 AM )
Read more...
Written by Steve Dietz
Dec 28, 2005 at 11:31 PM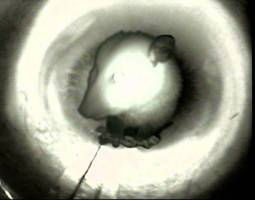 Nocturne is an interactive media installation focusing on animals such as opossums, gophers and the endangered kit fox that have found successful niches within the urban and suburban landscape. Footage of these animals is captured using video live traps and surveillance equipment. In the gallery, each captured video plays on a LCD screen or projection scaled to the creature's actual size. The video responds to the presence and actions of the human viewers visiting the gallery, becoming a mediated exchange between co-inhabitants of urban spaces. The project's intention is not only to acknowledge the individual lives of the animals represented, but also to forward the idea that they have an important presence in our contemporary city space—a presence that insists that the boundary between man-made and natural remains permeable.
Last Updated ( Jul 12, 2006 at 03:15 PM )
Read more...
Written by Steve Dietz
Dec 28, 2005 at 09:45 PM

Matt Gorbet, Susan Gorbet, Rob Gorbet
P2P is a 30-foot interactive marquee hanging on the façade of a building in downtown San José. 125 light bulbs, with 125 corresponding switches just across the street. By engaging in the everyday unconscious activity of flipping a light switch, passers-by can express themselves, forming any patterns they choose in the hanging web of lights. Solo interaction blends with group dynamics as messages from vanity to profanity, from emotion to allegiance, are constantly created and changed. Ultimately, P2P encourages dialogue about the future of public expression in a technology-filled world. What will you say?

Last Updated ( Apr 26, 2006 at 11:34 AM )
Mar 13, 2006 at 10:46 PM
For this project the Mobile Performance Group (MPG) investigates one of the most ubiquitous spaces in the United States, the parking lot. In "Parking Spaces" MPG will move through the city looking for empty parking lots to use as raw material to create improvised sound and image from and as a performance space. The formula for this performance is as follows; roam the city searching for parking lots, once an appropriate space is found record and collect both audio and visual material from that space. Using only recorded audio and visual material from that space the performers will create an improvised audio/visual performance using custom real-time audio video software. The improvised performance will be presented, at night, in the same space the material was found. Interested audience members can check our site for location updates, call for location updates or come across our performances by chance as they and we roam the city.

Last Updated ( Apr 11, 2006 at 03:11 PM )
Read more...
PCTN (Paper Cup Telephone Network)
Written by Administrator
Feb 26, 2006 at 11:20 PM
The Paper Cup Telephone Network (PCTN) is a free communication system. Just like the games played by children, anyone can put the cup to their ear to listen, or to their mouth to speak. However, the difference between the PCTN and the original game is that the "string" is connected to the world wide web where your voice is streamed to all the cups on the network carrying it blocks or even miles or a continent away.
Last Updated ( Sep 25, 2006 at 06:13 PM )
Read more...
Mar 14, 2006 at 09:47 AM
Ping Genius Loci is built up from 400 radio networked, solar powered, self sustainable intelligent analogue pixels, that are placed on a 20 by 20 meters grid. These pixels function in the bright sunshine, and are interfacing the people walking in the grid. For ZeroOne festival only part of the Ping Genius be shown on selected days. The area required will be ca 10 by 10 meters.
Last Updated ( Jul 10, 2006 at 03:39 PM )
Read more...
Pioneers Hitchhiking in the Valley of Heart's Delight
Mar 13, 2006 at 09:04 PM
"Pioneers Hitchhiking in the Valley of Heart's Delight" consists of five life-size cutouts painted with the portraits of people that were responsible for advancing the technology that drives Silicon Valley. These cutouts will be implanted with small GPS devices and then abandoned in public places in and around San Jose with a request for passers-by to deliver them to a prescribed location. Real-time information about them and their whereabouts will be part of an art work at YLEM's booth in the conference center.
Last Updated ( Aug 07, 2006 at 10:15 PM )
Read more...
PlaceSite Network: San Jose
Written by Steve Dietz
Dec 28, 2005 at 11:05 PM

Project PlaceSite introduces a new way of using wireless networks -- to create digital community services by, for and about people who are together in the same physical place.

PlaceSite is an open platform for a new breed of Web service tied intimately to physical places. It lets people share information locally, apart from the global Web.

PlaceSite is built upon what already exists -- users don't need to install new software or purchase new hardware. It also enables location-based services without relying on participation by cellular carriers or Internet service providers.

Last Updated ( Aug 05, 2006 at 03:14 PM )
Written by Steve Dietz
Dec 28, 2005 at 11:54 PM

Saint Joe is a hyper-narrative that unfolds within the landscape of VTA light-rail system. Participants can board the train at any stop, at which time using their mobile phone, they can dial a provided number to enter their origin, and their destination. As the participant's voyage commences, a dynamic audio history unfolds, referencing a variety of landmarks along the way. The landmarks however, are not your standard tourist fare. Locations, buildings, and vistas both mundane and curious are chosen to carefully weave a semi-fictitious tale of the city. Drawing from actual San Jose history, archived newspapers, police records, and local folklore, an audio and visual construction is elaborated while the viewer travels from station to station.
Last Updated ( Aug 07, 2006 at 10:00 PM )
Read more...
Mar 15, 2006 at 04:01 PM
SimVeillance: San Jose re-presents urban passersby within a game environment that mirrors a 'real-world' public space.

The artists will recreate the Cesar Chavez plaza in downtown San Jose using the Sims 2, and will work from images captured by surveillance cameras trained on the square, to populate the simulated square with replicas of 'real' transients.

Last Updated ( Jun 06, 2006 at 03:49 PM )
Read more...
Mar 14, 2006 at 11:25 AM
Four columns 7'x2'x2' square white wooden 'Memory Columns' are placed throughout the metropolitan area, each seeded with the same text and imagery. These Memory Columns induce passerby dialogue conducted via Velcro-ed permanent markers. A physical and virtual social interaction develops around each column, as thoughts and sentiments flowing by are deflected from their usual path and are projected onto the column. After a 3 day exposure period, each column will have effectively captured a snapshot of the local collective memory. By deploying multiple columns within different parts of San Jose, we are able to probe the various cultural consciousnesses that flow throughout the city.

Last Updated ( Aug 03, 2006 at 10:03 PM )
Read more...
Mar 14, 2006 at 09:16 AM
SOUNDBIKE is a portable sound piece that uses motion-based generators mounted to an ordinary bicycle to broadcast the sound of laughter as the bike is pedaled through the urban environment. The laughter is generated by playing sequences of short source clips that start when the bike reaches a cruising speed and then respond to the bike's velocity. The piece is exhibited by loaning the bike on an honour system.

Last Updated ( Jun 05, 2006 at 12:38 PM )
Read more...
Mar 15, 2006 at 09:40 AM
Day: Wednesday
Time: 9:30PM - midnight
Location: Martin Luther King, Jr. branch San Jose Public Library, 4th & San Fernando
Ticket Price: FREE and open to the public
Performance Duration: ongoing during that time period (2.5 hours)



SPECFLIC 2.0 is a performative media event set in 2030. Taking place in and around the Martin Luther King, Jr. Main Public Library, San Jose, CA http://www.sjlibrary.org, SPECFLIC is distributed cinema; a "story-event" created by layering different media forms (including large projections on iconic public buildings, cell phone cameras & SMS, live performance and radio).
Last Updated ( Aug 07, 2006 at 10:01 PM )
Read more...
Mar 13, 2006 at 09:32 PM
Amy Alexander, Jesse Gilbert, Wojciech Kosma, Vincent Rabaud, Nikhil Rasiwasia
Surveillance Video Entertainment Network (aka AI to the People)
SVEN is a system consisting of a camera, monitor, two computers, and custom software, that can be set up in public places - especially in situations where a CCTV monitor might be expected. The software consists of a custom computer vision application that tracks pedestrians and detects their characteristics, and a real-time video processing application that receives this information and uses it to generate music video-like visuals from the live camera feed. The resulting video and audio are displayed on a monitor in the public space, interrupting the standard security camera type display each time a potential rock star is detected. The idea is to humorously examine and demystify concerns about surveillance and computer systems not in terms of being watched, but in terms of how the watching is being done - and how else it might be done if other people were at the wheel...
Last Updated ( Apr 11, 2006 at 03:27 PM )
Read more...
Mar 14, 2006 at 12:28 PM
Introduction
Traffic Island Disks is a radio programme about music, people and places. We invite you to roam the streets of the city with us looking for people wearing headphones, stopping them, and interviewing them while recording whatever they are listening to. Then you can use the website to upload, download and mix the results into a musical tour of the city.
Leading up to ISEA, The People Speak team will hold a series of one-day workshops, travelling the VTA bus route 73 around San Jose, recording what passengers are listening to, and what they have to say about it as they ride through San Jose. Then we'll mix together an audio tour of the route. This will be the first episode of a San Jose Traffic Island Disks show called 'Electric Light Radio'.
This tour will be available from our website, and from a wireless kiosk on the Electric Light Tower at Kelly History Park, where participants can find out how to record their own interviews and contribute to an ongoing musical map of San Jose.
Last Updated ( Apr 24, 2006 at 02:00 PM )
Read more...
Written by Administrator
Mar 15, 2006 at 03:35 PM
Tad Hirsch, Yang Ruan, Raul-David "retro" Poblano, Miguel Menchu
Tripwire is a site-specific installation responding to the unique relationship between the Norman Y. Mineta San Jose International Airport and downtown San Jose. Custom-built sensors hung from trees at several public locations monitor noise produced by overflying aircraft. Detection of excessive aircraft noise triggers automated telephone calls to the airport's complaint line, on behalf of the city's residents and wildlife. Documentation of noise incidents is archived for later analysis.
Last Updated ( Sep 12, 2006 at 01:54 PM )
Read more...
Mar 15, 2006 at 03:50 PM
WiFi.ArtCache consists of a WiFi node containing digital art objects retrieved by attendees via an embedded 802.11 access point. These art objects are interactive and programmed in Flash or Processing (http://www.processing.org) in such a way as their behaviors and interactivity can be articulated based on the physical and virtual activity of other attendees who are interacting with the node's art objects. For instance, each art object can access variables and functions that specify such things as how many people are currently interacting with the ArtCache and thus alter characteristics — color, tempo, shapes, animations — based on a range of variables that, ultimately, indicate the kind and level of social activity in and around the ArtCache.
Last Updated ( Apr 11, 2006 at 09:41 AM )
Read more...
Mar 13, 2006 at 03:39 PM
At nighttime projections from moving cars are shone on the buildings in the industrial/abandoned part of town. Each car projects a video of a wild animal. The animal's movements are programmed to correspond to the speed of the car: as the car moves, the animal runs along it, as the car stops, the animal stops also. Aggressive driving is reflected in the aggressive behavior of the animal. The animals are avatars of the drivers, who, enclosed in their bubble of safety, are separated from the stark and dangerous world of urban reality, as being in a different universe. The projections both expose the starkness of the urban landscape, and transform it into a world of dark fantasy.

Last Updated ( Jun 12, 2006 at 12:53 PM )
Read more...
Mar 13, 2006 at 10:27 PM
When a local household in San Jose decides its share its wireless network with neighbours and other strangers, the house members do not know what to expect. Few curious passersby stop by to see what would happen next. There is a rumour that somewhere else, at the other end of town, another household with a yellow chair is doing the same thing. What was going on? The rumour mill worked overtime, as people wondered why anyone would want to sit on a yellow chair to access a wireless network. But for those who sat on the chair, they knew it was a unique experience and a lot of fun. They had been 'invited' to enter personal networks, share music and movies and shout across town about war and politics if they so wished. They felt like cyber voyeurs, entering unknown territories, grabbing and dropping files across the neighbourhood, across the city, over a cup of coffee.

Last Updated ( Aug 05, 2006 at 03:27 PM )
Read more...